New Bereavement Professional/Program Director Training Series
Live Webinar
Unlimited connections for your agency
Available on desktop, mobile & tablet

Take-away toolkit

Presenter's contact info for questions
On-Demand Webinar
Unlimited & shareable access starting
two business days after live stream
Available on desktop, mobile & tablet devices 24/7
Take-away toolkit
Ability to download webinar video
Presenter's contact info for questions
See Registration Options
Bereavement care is a fundamental hospice service.
This contemporary series will take a deep dive into the role and responsibilities of bereavement professionals. It will go beyond the Medicare requirement and look at advanced program ideas and possibilities to enhance services and provide exceptional care to the bereaved.
NEW BEREAVEMENT PROFESSIONAL/PROGRAM DIRECTOR TRAINING TOPICS
60-minute webinars – available live or on-demand
Defining Bereavement Services: Spirit of the Law vs. Letter of the Law
Bereavement Service Possibilities: What Are the Options?
Advanced Bereavement Programming & Services
Purchase webinars individually or buy the whole series to save 10%!
SERIES DETAILS
National statistics report approximately 2.5 million people die in the United States yearly and each person leaves an average of five grieving people behind. How many people are typically included to receive bereavement follow-up services for each death within your agency? Are team members clear about the regulations that guide bereavement work? Who should be the director of bereavement programs and what qualifications are required to provide grief counseling? This webinar series is designed to answer those questions and provide a wide range of knowledge and skills to new bereavement professionals and program directors. Additionally, it will benefit those in the field who wish to know more about the provision of bereavement services. Creative ways to add additional services, improve groups and mailings, and maximize the use of volunteers and virtual/distance services will also be covered.
THIS SERIES WILL BENEFIT THE FOLLOWING AGENCIES:
NOTE: All materials are subject to copyright. Transmission, retransmission, or republishing of any webinar to other institutions or those not employed by your agency is prohibited. Print materials may be copied for eligible participants only.
Included Webinars: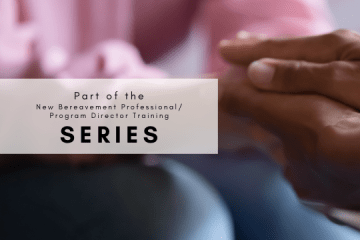 Don't drop the ball when it comes to bereavement care. How effective are your agency's bereavement services? A positive experience with your hospice program is crucial. You may be meeting the "letter of the law," but that can still leave people dissatisfied with the provided care. This webinar will first address key bereavement regulations and programming, as well as recommendations for creative and effective ways to ensure compliance. Next the program will cover the intended "spirit" of each regulation. The goal is to increase bereavement professionals' confidence about their overall knowledge of related programming and services and to create a plan to raise the bar for offered services.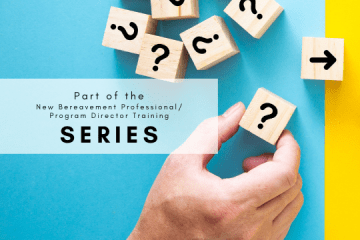 When it comes to providing bereavement interventions, the least effective for high-risk people are mailings and support groups. Yet nationally there are programs that only provide those two options. Are the people who need us most being left out? Could we be doing more to provide higher levels of bereavement care by creatively using current resources? This webinar will look at expanding services by thinking WAY outside the box.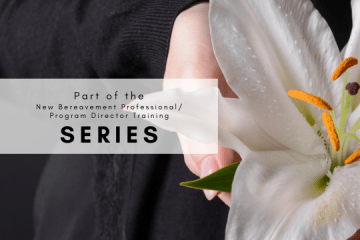 What skillset and knowledge base are needed for advanced-level bereavement program management? What does a highly effective bereavement program look like? What are the national best practices that address the needs of medium- and high-risk people? This webinar will answer these questions and explore the concept of high-level hospice bereavement care, including what we need to know as bereavement professionals and what services should be offered.
© 2023 FINANCIAL EDUCATION & DEVELOPMENT, INC