2023 Hospice CoP Compliance Series
On-Demand Webinar
Unlimited & shareable access starting
two business days after live stream
Available on desktop, mobile & tablet devices 24/7
Take-away toolkit
Ability to download webinar video
Presenter's contact info for questions
See Registration Options
Meeting the Hospice Conditions of Participation requirements is not only beneficial for agency success – it is mandatory.
This clarifying series will tackle all things compliance for medical directors, the IDT, nurses, aides, spiritual caregivers, social workers, volunteer programs, and bereavement teams.
HOSPICE CoP COMPLIANCE SERIES TOPICS
90-minute webinars – available live or on-demand
Hospice Medical Director, NP, PA & IDT Compliance
Hospice Social Worker & Spiritual Caregiver Compliance
Hospice Nurse & Aide Compliance
Hospice Volunteer Program Compliance
Hospice Bereavement Professional Compliance
Listen to the key takeaways from Kathy's new series:
Purchase webinars individually or buy the whole series to save 15%!
SERIES DETAILS
This five-part comprehensive compliance series will cover the Medicare Hospice Conditions of Participation (CoPs). Industry expert Kathy Ahearn will break down the CoPs into manageable sections that focus on specific hospice team members. The series will ensure your agency has a solid compliance foundation and clarify the confusion when it comes to overwhelming or vague CoP requirements. It will review the roles, responsibilities, and regulations surrounding the medical director, attending physician, nurse practitioners, physician assistants, the interdisciplinary team, social workers, spiritual caregivers, nurses, aides, bereavement professionals, and volunteer managers and programs. Other critical aspects such as the CTI, F2F requirements, hospice eligibility, the 5% requirement, documentation, bereavement counseling, and so much more will be addressed. A well-run and compliant agency will ensure you provide the best possible care to patients, families, and the community.

THIS SERIES WILL BENEFIT THE FOLLOWING AGENCIES:
NOTE: All materials are subject to copyright. Transmission, retransmission, or republishing of any webinar to other institutions or those not employed by your agency is prohibited. Print materials may be copied for eligible participants only.
Included Webinars: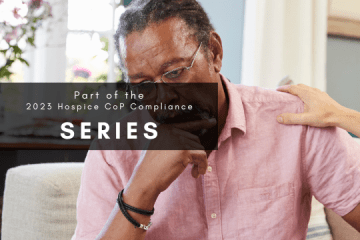 The CoPs require bereavement counseling as a core hospice service. This webinar will cover key regulations, who qualifies to provide bereavement and counseling services, risk assessments, and how to set up a bereavement plan of care. Best practices will be presented, reviewed, and discussed regarding implementing, measuring, and evaluating an effective bereavement program.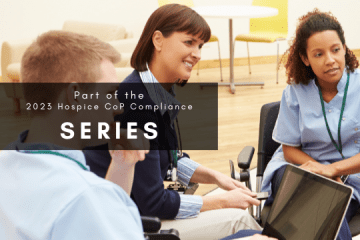 This webinar will review the roles and required documentation of the hospice medical director, attending physician, nurse practitioner, and physician assistant. It will review the CoP technical requirements for hospice eligibility, how to support eligibility, and proper documentation. Requirements concerning the certificate of terminal illness and the physician narrative and how to write both effectively will be detailed. The webinar will discuss face-to-face requirements and how to support the CTI and recertification within F2F documentation. How to use LCDs will be detailed along with examples and best practices for documentation related to the CTI, physician narrative, F2F, and IDT notes supporting both initial and ongoing hospice eligibility to avoid potential audits and maintain compliance. The critical function of the IDT and oversight of the plan of care will also be covered.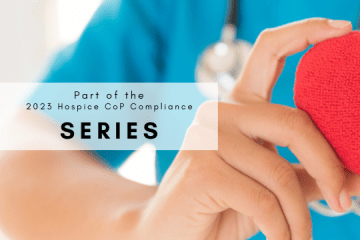 This webinar will focus on hospice nurse and aide regulations, the CoPs, and critical role requirements. How to support eligibility through effective assessments, interdisciplinary team involvement, development of the plan of care, and documentation best practices will be detailed. Ongoing compliance challenges with an emphasis on best practices for both nursing and aide services will be reviewed. Participants will learn about aide oversight requirements and how to maintain compliance. The webinar will also cover the four levels of care, required documentation, and how to avoid high-risk admissions and triggering audits. This session will cover a lot of critical material and serve as a great resource for new hospice nurses, or as a refresher for agency hospice RN best practices.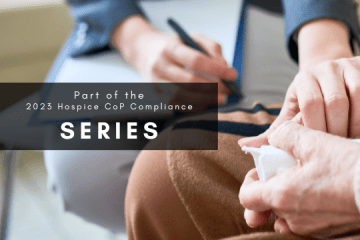 The social worker and spiritual caregivers' critical roles are core to the hospice team and benefits. When it comes to supporting Medicare eligibility, these roles are often underutilized, misunderstood, and misguided. This webinar will cover the regulations and the Conditions of Participation service responsibilities of social work and spiritual caregiving. The program will discuss assessment best practices, how to support initial and ongoing eligibility through documentation (including how to develop and update the plan of care), and IDT participation. Dive into the challenges that social workers and spiritual caregivers face and discuss solutions.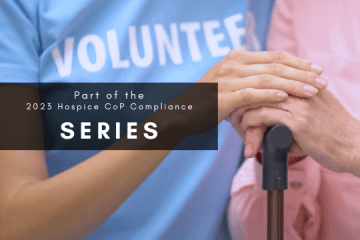 Volunteer programs are considered a core hospice service required by the CoPs. This webinar will focus on key aspects of hospice volunteer programs. It will address the regulations, including which activities qualify for the 5% requirement and how to calculate the overall percentage of volunteer time. It will cover the role of the volunteer director/manager, the requirements for volunteer training programs, and best practices. Having a robust volunteer program has many advantages. Discover how volunteers bring added value to your agency.
© 2023 FINANCIAL EDUCATION & DEVELOPMENT, INC